About Project
KÜME is a project financed by the European Union, managed by the World Bank Group and implemented by IDEMA. The KÜME Project aims to establish a female-led social enterprise in Mersin with the collaborative participation of at least 25 women from both Syrian's under temporary protection and host communities. Through various activities over the course of 18 months, the project contributed to building the capacity of the social enterprise established in Mersin, as well as its members individually. Within the scope of the KÜME Project, an online platform has also been created where the educational content is in the form of videos. With this platform, participants were given the opportunity to complete their course modules with distance education.

Ahenk Cooperative, established under KÜME Project, is a project consulting, unity, production, and business cooperative, based healthy and quality products with the joint participation of Turkish and Syrian women under temporary protection in Mersin.

The Ahenk Cooperative was established to create income generating resources for disadvantaged communities.
✦ It's the first example of multi-stakeholder cooperatives that all the founding partners are women in Turkey
✦ It's a non-profit organization
✦ Raising awareness on fair trade
practices and principals
✦ Improving the living conditions of socially and economically
✦ Transforming local products into value-added and innovative products in line with Fair Trade
Project Logo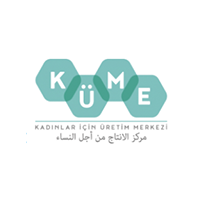 Partners